Birthday parties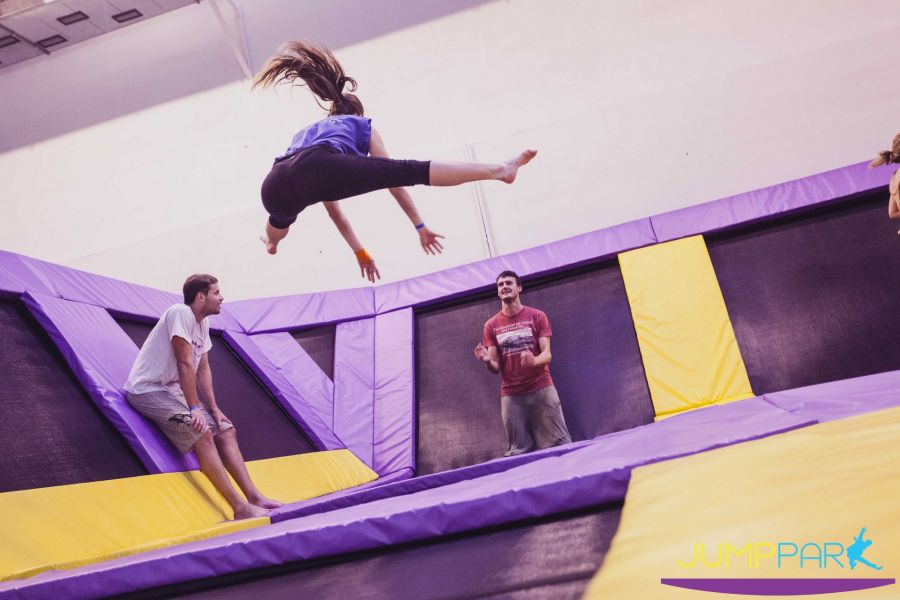 Do you want to hold a unique birthday party that everyone will be jealous of? Go ahead and write to us at jarov@jumppark.cz
Reservation of a table in the reserved space for birthday parties: 500.-.
How is the birthday party organised?
First you jump, then you celebrate. You can jump for one or several hours – it's completely up to you. When you book, we also provide you with seating at the birthday tables for the duration of your jumping session + 50 minutes after the kids finish jumping, just so you have enough time to celebrate, present the gifts and eat your cake.
What can I bring?
You can bring your own cake and own refreshments. Table decorations are also totally up to you. Our only condition is that beverages must be purchased at our bar.
We offer a basic selection of bottled beverages. We also have several types of non-alcoholic bubbly.
What else do we offer?
We also offer the opportunity to jump with one of our coaches, who will give the children a tour of the entire facility. He/she can also play games with the children or can teach them a flip or another kind of trick.
We have an invitation ready for you as well.
The price for jumping with trainer is 600 Kč for one hour. In this price is not include the jumping.
For better organisation of the session, we recommend using a coach for children under the age of 10. However, we cannot guarantee the presence of a coach during weekdays.
Please inform us about an order for a coach at least one week in advance.
It is possible to order party catering, which we can arrange from a nearby restaurant. If you are interested, we can send you the offer by email jarov@jumppark.cz
We recommend booking birthday parties at least three weeks in advance, especially if the requested date is a weekend or Friday afternoon.